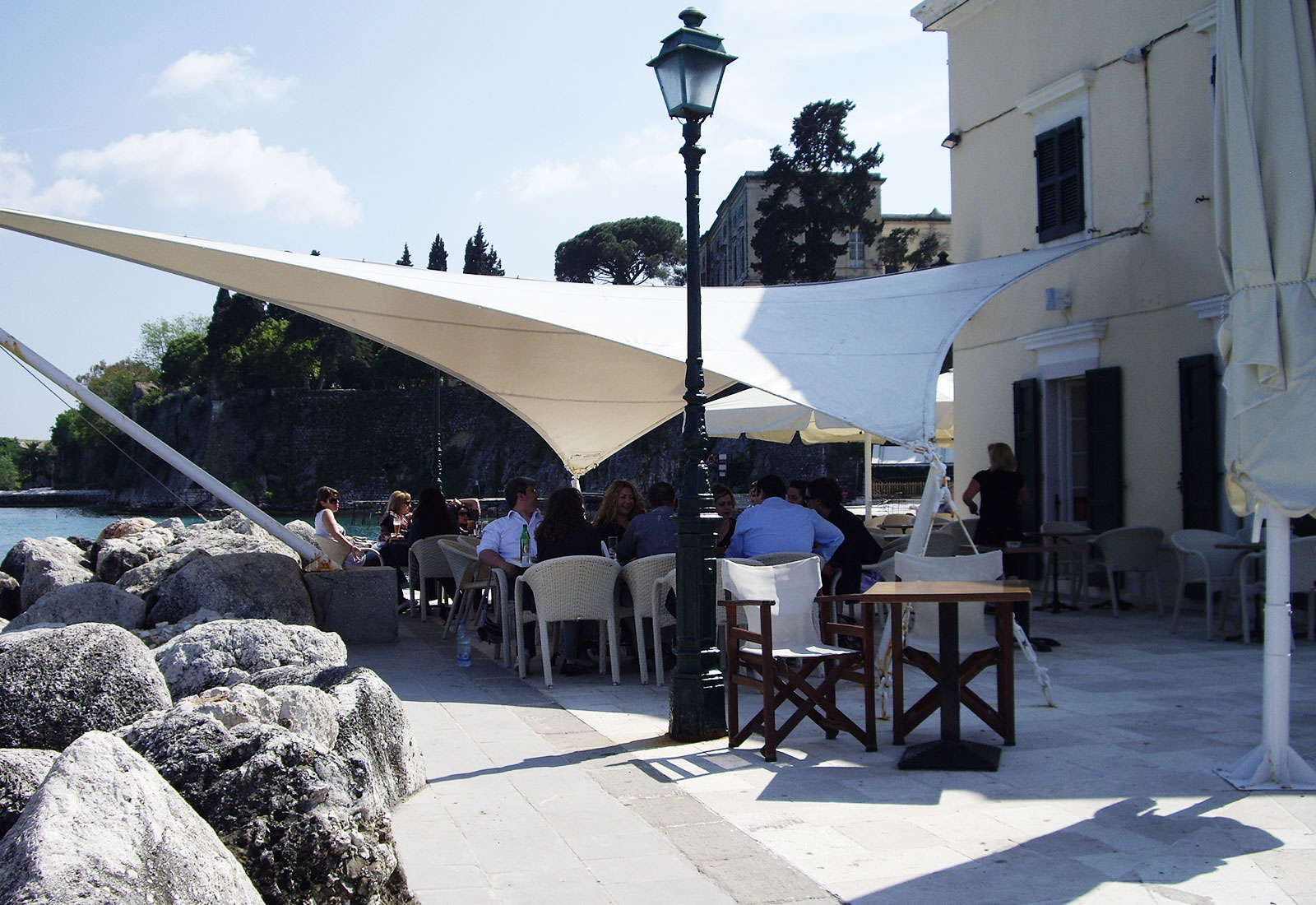 About En plo
EN PLO welcomes us on a magic voyage, any time....
It was 1994 when it opened its doors, on the one side echoing the whistles of the passing ships and the seabirds, on the other side inhaling the sea breeze and looking at all possible shades of blue – from blue-mauve of the sky just before darkness to white-blue of the rough sea.

The place is called Faliraki......
It brought to Corfu town a dream place for relaxation – it feels to be coming from the past, its light is gentle and its pace is friendly, it doesn't belong to the town's noise, it offers fresh coffee, beer and unique tastes. In the morning, this place is perfect for those who wish to hide away for a little, in the dream landscape that lies before them; here you can enjoy your newspaper or simply daydream overlooking the blue sea, drinking a cup of sweet chocolate or a glass of fresh juice.
In the afternoon, especially on sunny days, you just have to sit outdoors, sipping a glass of ouzo or a beer and enjoying a rich plate of delicatessen, meat or fish; this way you can well escape daily routine. Later on, the place puts on its evening gown; it becomes the ideal place to sip a nice drink or a fine wine, and enjoy cold or warm dishes.
There's a fine line delimiting the excitement of the night and the magic and peace of the evening around you...
EN PLO knows well how to respect this limit and it is bound not to let you down.
---
The Place
Faliraki - St. Nicolaos
Set in a historic area of the old town with magnificent views to the Greek Mainland, the ΄΄ EN PLO΄΄ Café – Restaurant, offers you an excellent opportunity to get away from it all. Located at Faliraki, right behind the impressing Palace of St. Michael and St. George, the once known as the Corfu Baths have been transformed into the popular ΄΄EN PLO΄΄ Café – Restaurant which appears to be floating on the surface of the sea. Being awarded of excellence within the framework of the program ΄΄Innovation of the Ionian Islands΄΄, ΄΄EN PLO΄΄ caters for all tastes.
---
Services
Receptions
Exterior capacity: 150 - 200 persons
interior capacity: 40 - 50 persons
In a unique place we can offer you coffes, drinks, cakes, ice creams. You can also enjoy unique tastes of Greek and Mediterranean cuisine, local dishes, fresh fish, mixed grill, salads, fish dishes and an extensive range of wines. In a unique place we organize weddings parties, catering, bachelor parties and coffee breaks.
---